Joint Venture Projects
We try to sell projects, so that small actors do not have to spend their resources on marketing themselves, but can concentrate on doing.
We have already done some
pilot JV-projects
this year, where we feel we managed very well.
One project was related to Helsinki World Design Capital 2012 and the Furniture for the Coffee Shop at the Pavilion.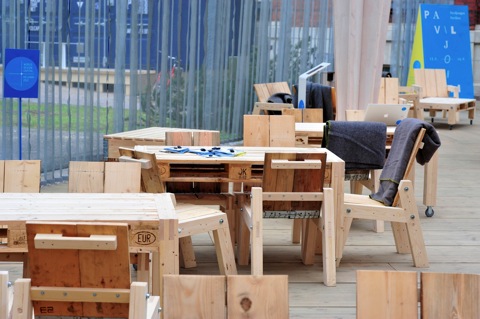 WDC Pavilion Coffee Shop E2 chairs, tables and storage unit, in the
background an armrest chair and a low sofa table
Another project was the
Trash
stand at Habitare Furniture Fair. This year our theme was "
International Trash Hotel
" with participants from 6 different countries.
Visit
trashdesign
and check the "Exhibitions" page with pictures from our stand.
Pressrelease for Habitare 2013 Trash Goes Architecture, Pavilion Re-Made
PressReleaseTrashHab2013ENG
Trash at Habitare 2013, Trash goes Architecture - Pavilion Re-Made
The entire material of the WDC Pavilion came to Haarajoki. For Habitare 2013 we asked different architects to come up with sketches of structures that could be made out of the material.
We got some fantastic ideas. United Design Group out of Shanghai, China, had 3 suggestions, we realised them all. Actually a group of 10 Polish students from School of Form made them during a 3 week internship at
Trash Factory.

During the summer we have had 3 students practicing at Trash Factory, Niina Valkama, Vilja Jyrinki and Jaakko Mäntylä. Then Henkka Haapalainen has been with us for 6 months.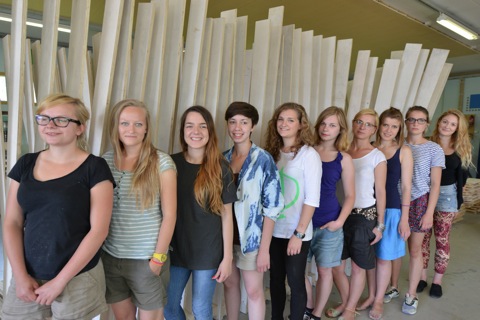 Our Polish students in front of "Shadows in Birch Forest" by UDG
One of the groups working with Habitare 2012 was Outokone (OUKO) group. For 6 months they were working at
Trash Factory
, thank you guys.
Philipp von Haase of Norway has stored some of his "Home is where your Door is" project items at
Trash Factory
.
LINKS to some at Trash Factory, as of 11/2012
dodo
the people behind Trash Factory
trashdesign
a small subsidiary of dodo
eetu
a longtime Partner at Trash Factory
Natalia Ritari Works
FANTASTIC Chandeliers
DSGN Jonatan Varon
Young designer
Coming Up
In 2013 we know we will be busy. For Habitare we are planning a special event that involves physical parts of the Helsinki WDC 2012 Pavilion. But before that we will most likely be busy with some other projects, that at present are in the negotiation phase.